AMPLIFIED 2023
The 1865, Southampton.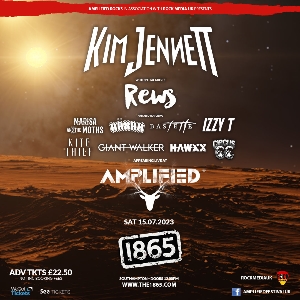 More information about AMPLIFIED 2023 tickets
AMPLIFIED 2023 returns to bring the best in new UK Rock music to The 1865 in Southampton on Saturday 15th July with what promises to be a line to you will not want to miss!
Featuring our Headline act...
KIM JENNETT
A dynamic and powerful solo musician known for her electrifying fusion of rock, blues and Metal. With a career spanning several years and numerous projects, including her time as front woman for Voodoo Blood, Kim has developed a unique and captivating sound that has earned her comparisons to a female Robert Plant and a modern day Janis Joplin.
"An electrifying performer in the live arena...very special indeed" PLANET ROCK
Her live performances are not to be missed as she brings her raw, soulful vocals and powerful stage presence to every show. in 2019 her Download Festival debut, was one of the most talked-about performances of the weekend and her performance on BBC's "The Voice" solidified her place in the hearts of rock fans all over the country. With her undeniable talent and relentless passion for music, Kim Jennett is a force to be reckoned with in the world of rock and roll.
For 2023, her new electrifying full band sets will be a celebration of her work through the years and will also include opportunities to showcase new material. The full band dynamic adds a new level of energy and excitement to her performances. With the addition of a talented group of musicians behind her, Jennett's live shows have become a true spectacle, highlighting her powerful vocals and big bad lady balls.


You can follow the Artist here
www.facebook.com/kimjennettvocalist

www.kimjennett.net
With Special Guests...
REWS
Hailing from Northern Ireland, REWS exploded onto the international live circuit in 2017 with debut 'Pyro', released via Marshall Records, leading to critically acclaimed performances at Glastonbury Festival (John Peel Stage), Isle of Wight Festival and Boardmasters. They then toured extensively across the UK, Europe and US, landing support for Halestorm and The Darkness as well as appearances at Mad Cool Festival (Spain), Camden Rocks (UK), Music China (Shanghai), NAMM, 'She Rocks' Awards (Los Angeles) and Eurosonic (Netherlands) and was nominated for Planet Rock Magazines 'Best New Band'.
"brilliant song writing, honest and raw with vivacious riffs, infectiously energetic and a much-needed modern twist" DISTORTED SOUND
2020 saw the release of the highly anticipated sophomore album 'Warriors', received with relief during the global pandemic. This release solidified several high profile UK festival slots including 2000 Trees and Y Not Festival. Singles 'Birdsong', 'Monsters', 'Heart Is On Fire' & 'Today We're Warriors' gained international praise on radio, TV and online, including an addition to several editorial playlists such as 'Fierce Femmes' on Spotify and to top it off, have sound tracked numerous sporting events across the UK, most recently for the Women's Cricket on day-time BBC TV.
REWS is building upon this success releasing bangers such as 'Breathe Into Me' and 'Pretty Face'; songs that have gained the extensive support of the Kerrang! Radio all released via the Earache Records.
You can follow the Artist here
www.facebook.com/wearerewsmusic
www.rewsmusic.com
Also featuring...
MARISA & THE MOTHS
Marisa And The Moths are turning heads with their alternative rock sound and powerhouse female vocals. Their 2019 self-titled debut album received rave reviews from press outlets like Kerrang!, Classic Rock, and BBC Radio 2's Rock Show.
"Sharp, chunky modern hard rock...think of Halestorm, Foo Fighters and In This Moment, alongside touches of various classic rock heavyweights" CLASSIC ROCK MAGAZINE
With previous headline tours under their belt, support slots for artists like Kris Barras Band, as well as appearances at festivals like 2000 Trees and Planet Rockstock, Marisa And The Moths have proven themselves to be a top-tier live act.
You can follow the Artist here
www.facebook.com/marisaandthemoths
www.marisaandthemoths.com
IZZY T
A British-Iranian alternative pop artist, pioneering a unique fusion of guitar and electronica, creating a timeless yet futuristic tapestry of sound, driven by her seductive and fierce vocal style.
"An artist you just have to sit up and pay attention to!" METAL PLANET MUSIC
One of her most recent singles 'I Feel Everything' was made Track Of The Week on BBC Radio 1, described as a magnetic opus, having the same reminiscent and empowering energy of Christina Aguilera's 'Fighter'.
Currently working on new music with a variety of producers in the UK, and U.S. including Jake Magness (Machine Gun Kelly, Halsey), and platinum mix/master engineer/producer David Gnozzi of MixbusTV you do not want to miss her performance here at Amplified 2023!
You can follow the artist here
www.facebook.com/IzzyTOfficial
www.izzytmusic.com
BASTETTE
Explode on the stage like a supernatural force with unrestrained confidence and confessional vulnerability. Sonic power and huge hooks, sometimes aggressive, sometimes hauntingly intimate but always authentic...this is your invitation into Bastette's world!
"Suberb...one of the most promising bands around" MAXIMUM VOLUME
You can follow the artist here
www.facebook.com/Bastette
www.bastette.co.uk
HAWXX
An alternative metal band made up of Anna (vocals/ guitar), Hannah (guitar / backing vocals), Jess (drums/ backing vocals) and Julia (bass/ backing vocals). London based but hailing from Greece, Wales, England and Italy.
"With elements of brutal power, style and righteous venom but with some of the biggest hooks you'll ever hear Hawxx are unstoppable in their inevitable climb to the top" METAL PLANET MUSIC
We write songs about oppressive beauty standards, mental health struggles, violence against women, self empowerment, the tales of being a norty gremlin and much more. We write songs that we need to sing, as vehicles of catharsis, love and rage.
A feminist band and it is our aim to be part of changing the landscape of the rock and metal world and for our gigs to be a brave space with women, trans and non binary people at the center.
You can follow the artist here
www.facebook.com/hawxxmusic
www.hawxx.co.uk
KITE THIEF
A 5-piece Candy Metal troupe from Bristol UK. They joyously brim with angular riffs, catchy choruses and a ballsy rhythm section. Sweet and full of grit, Kite Thief's sound is like dropping your favourite candy in the gutter and still wanting to put it back in your mouth.
"You could plonk them on stage opening up for Bring Me The Horizon and nobody would bat an eyelid" THE UNDERCOVER GROUPIE
For fans of Bring Me The Horizon, Don Broco, Tonight Alive and Spiritbox. Kite Thief have toured across the UK and have had the pleasure of performing alongside bands such as Vukovi, As Everything Unfolds, Rain City, Haggard Cat and The Fallen State.
Kite Thief's first single, 'Pinky Promise' was featured as tracks of the week on BBC Radio's
"The Social" and thanks to BBC introducing in the west, each release since has been featured on BBC introducing!
You can follow the artist here
www.facebook.com/kitethiefuk
www.kitethief.com
GIANT WALKER
A Heavy Progressive Rock band from Newcastle, UK, consisting of Steff, Jamie, Jordan and Alex bound together by their northern heritage and a shared love for bands such as Karnivool, Soundgarden, Radiohead and Deftones.
"UK Prog Metal's next big thing" METAL HAMMER
Their music captures the many lows of loneliness and tips a hat to the music that gets you through hard times; sweeping you up in a conceptual journey, from giant riffs to melancholic melodies, and ambient soundscapes.
Following the album launch for their debut album 'All In Good Time', Giant Walker went on to sell out multiple dates on their first UK headline tour and then toured the UK towards the end of the year on a co-headline tour with Hawxx.
You can follow the artist here
www.facebook.com/giantwalker
www.giantwalker.co.uk
CIRCUS 66
With their debut album 'Follow The Black Crow', CIRCUS 66 provide a call for personal freedom! Liberate yourself from conventional thinking and following your path. JUST BE WHATEVER YOU WANT TO BE.
"UK riff merchants with distinction and enough groove and vigour to shake up the dead!" MAXIMUM VOLUME MUSIC
Written precisely at the right time this makes perfect sense with the message and tone of defiance; not founded in negativity but in the pursuit to CELEBRATE INDIVIDUALITY. Cutting through the noise of conventional expectation, we remind ourselves that there is always a choice and then come the lyrics and music; from a series of sketches to a defined message and purpose; under restrictions, there is always a choice, a decision, and a mission...this is CIRCUS 66!
You can follow the artist here
www.facebook.com/Circus66
www.circus66.com/
EARLY BIRD TICKETS ARE ON SALE NOW!