Jonny & The Baptists + Harry and Chris
Firebug, Leicester.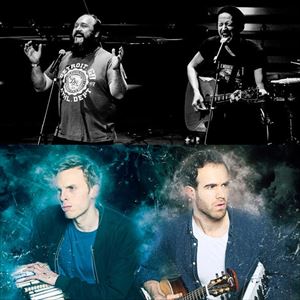 Ed Fringe Preview Double Bill


More information about Jonny & The Baptists + Harry and Chris tickets
Jonny & The Baptists: Love Leicester & Hate Bastards

We live in a divided world, and we want to cross that divide. But how can we be popular now 'populist' means 'I'm a shit'? Answer: WE LOVE EVERYONE. Oh, except bastards. Everyone hates bastards, right? We agree.

Multi-award nominated* musical-activist-comedians, Jonny & The Baptists, are sick of being political and divisive. This show is about how everything is definitely fine. Everyone's happy! Let's just get along!

**** "Excellent" Guardian
**** "Wickedly funny" Times
**** "Lovely" Scotsman
*** "Disgraceful" Telegraph (bastards).

*We've lost 5 times and won no times.

Harry and Chris: This One's For The Aliens

Harry and Chris (Guardian Pick of the Fringe 2018) are at the top of their field, having invented the field of comedy-rap-jazz. They've sold out three Edinburgh shows, appeared on the Russell Howard Hour and were called 'fabulously entertaining' by Jonathan Ross (we didn't even pay him).

From the ridiculous to the sublime, the world's greatest comedy-rap-jazz duo bring award-winning wordplay, awe-inspiring musicality, eyebrow-raising bromance and unashamed joy to the biggest PR task of all time – spinning planet Earth.

'Thoroughly feelgood' (Chortle.co.uk).
'Magnificent' ***** (Sunday Post).
'Blisteringly talented' ***** (FringeGuru.com).


Age recommendation 16+
Tickets £8